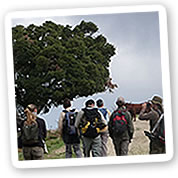 Educare Aventura organises a large number of activities for everybody. Some of these activities require a certain level of fitness because of their difficulty and hardship.
Our services are good for: Travel Agencies that work with Active and rural tourism, hotels, Rural houses , people in general, groups or individuals, and public or private companies that would benefit from our services for especial purposes or events.
Our main interest is to make people know, enjoy and live sports in a natural environment. We offer safe and high quality service so that you can enjoy the activity you have chosen the most.